Maureen's next talk and healing service:
St. Gabriel the Archangel Parish
151 Mendon St.
Upton, MA 01568
Telephone: 508-603-1430
CONDUCTED BY FR. LARRY BRAULT
April:  4/13/23
May:   5/11/23
June:  6/8/23
July:   7/13/23
August: 8/10/23
September: 9/14/23
October: 10/12/23
November: 11/9/23
December: 12/14/23
Mass 6:00 PM
Healing Service
Benediction
Confessions 6:30 PM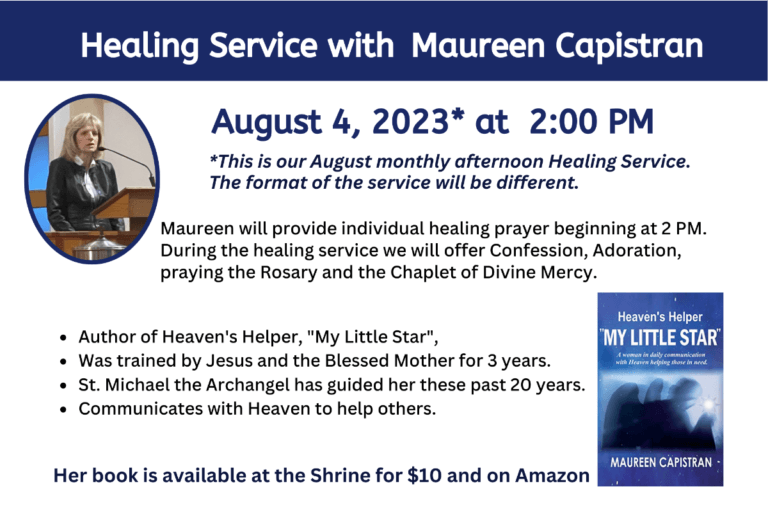 Latest Interviews:
Maureen Capistran the author of the recent book Heaven's Helper My Little Star, is the amazing true story of her daily guidance from Heaven to help and teach those in need.   She was trained for 3 years by Jesus and the Blessed Mother, then given the Archangel Michael to guide her for over 20 years. This life-changing story is meant to teach that God exists, and what God would like us to know in order to advance our spiritual journey on earth and make it to Heaven. Through her story you will learn discernment and of God's miraculous powers. She has been approved by 5 priests, whose letters are in the intro of the book. Also Heaven's Helper My Little Star has been endorsed by New York Times best-selling author on angels Joan Wester Anderson author of "Where Angels Walk". All proceeds go to charity. Each interview consists of a different subject relating to her experiences.

WCCA TV is a public access TV station and community media center in Worcester, Massachusetts.
Close To Home is a show about people and situations that demonstrate and celebrate deep respect for mankind hosted by Molly Finn and Maureen Schwab. Returning after a year-long hiatus, Molly interviews author of Heaven's Helper "My Little Star" Maureen Capistran about her journey through life and what gave her the inspiration to help others through her journal writing.
Posted November 2022
+     +     +     +     +
1) December 8, 2021
WSFI Catholic Radio presents Healing the Whole Person with Maureen Capistran, "Author of Heaven's Helper, My Little Star"
2) January 13, 2022

WSFI Catholic Radio presents Healing the Whole Person with Maureen Capistran, "Author of Heaven's Helper, My Little Star"
 3) March 9, 2022

WSFI Catholic Radio presents Healing the Whole Person with Maureen Capistran, "Author of Heaven's Helper My Little Star"
4) May 12, 2022
WSFI Catholic Radio presents Healing the Whole Person with Maureen Capistran, "Author of Heaven's Helper My Little Star"
5) June 11, 2022